Dr. Barry Weiss
Periodontist in Hamden and New Haven, CT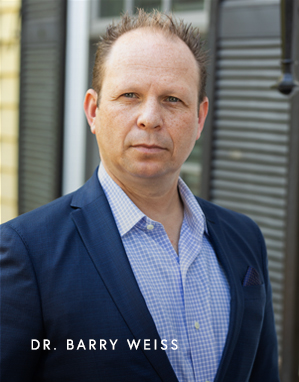 Dr. Barry Weiss received his Bachelor of Science from the University of Maryland in 1994, and his Doctorate of Dental Medicine from the Boston University School of Dental Medicine in 1999. Following completion of his dental degree, Dr. Weiss pursued advanced training in periodontics and dental implants at the Louisiana State University School of Dentistry in New Orleans. While there, he was involved in numerous research projects involving bone regeneration materials and techniques.
Industry participation
He is a diplomate of the American Board of Periodontology and is a co-founder of the Advanced Periodontics Hygiene Study Club. He is a member of the American Academy of Periodontology, American Society of Dental Anesthesiology, Academy of Osseointegration, American Dental Association, and Connecticut State Dental Association. Dr. Weiss is also a member of as well as past president of the Connecticut Society of Periodontics and New Haven County Dental Association. He has co-authored the book: "Everything You Need to Know About Dental Surgery A Guide to Safe, Successful Periodontal and Implant Surgery from the Experts" and has lectured to various dental societies on periodontal and implant surgery. In 2002, Dr. Weiss returned to his native state of Connecticut to begin private practice.
Personal life
In his spare time, he enjoys spending time with his wife and two children as well as cooking and golfing.