Dr. Brian Evans
Periodontist in Hamden and New Haven, CT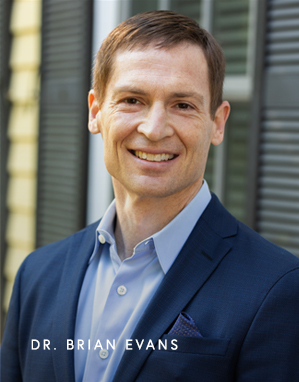 Dr. Brian Evans received his Bachelor of Science with honors from Lyon College and his Doctorate of Dental Surgery from Louisiana State University School of Dentistry. Dr. Evans remained at LSU where he pursued advanced training in periodontics and dental implants. He also obtained a Master of Science in Oral Biology. Following residency, Dr. Evans served on active duty with the United States Navy as a staff periodontist in Norfolk, Virginia. While in the Navy, Dr. Evans was the periodontics mentor for the Navy's Advanced Education for General Dentistry program and was awarded the Navy and Marine Corps Commendation Medal for meritorious service.
Industry leadership
Dr. Evans has lectured on numerous topics including dental implants, oral pathology, and cosmetic crown lengthening and is the co-founder of the Advanced Periodontics Hygiene Study Club. He has also authored the book: "Everything You Need to Know About Dental Surgery A Guide to Safe, Successful Periodontal and Implant Surgery from the Experts" and papers in several peer reviewed journals. He has advanced training in medical emergencies and holds certifications in both Basic and Advanced Cardiac Life Support and is one of only two periodontists in the state of Connecticut licensed to administer intravenous conscious sedation.
Dr. Evans is the recent recipient of, 'The Harvey Cedarbaum Outstanding Educator Award' for teaching excellence, effective communication skills and dedication to the General Practice Residency Program at Yale New Haven Hospital.
Dr. Evans has also been voted by his peers as one of Connecticut's Top Doctors for thirteen consecutive years, 2010 – 2023.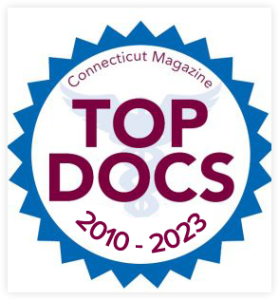 Industry participation
He is a diplomate of the American Board of Periodontology and is an Attending Periodontist, Department of Dentistry, Yale New Haven Hospital, New Haven, Connecticut. Dr. Evans is a member of the American Academy of Periodontology, American Society of Dental Anesthesiology, Academy of Osseointegration, American Dental Association, Connecticut State Dental Association, Connecticut Society of Periodontics, and New Haven County Dental Association. Dr. Evans serves on the Connecticut State Dental Association Covid-19 and Anesthesia task forces" and he was selected as a board member of the Connecticut Dental Political Action Committee.
Personal life
In his spare time, he enjoys spending time with his family as well as golfing and fishing.
---
Read Dr. Brian Evans' CV